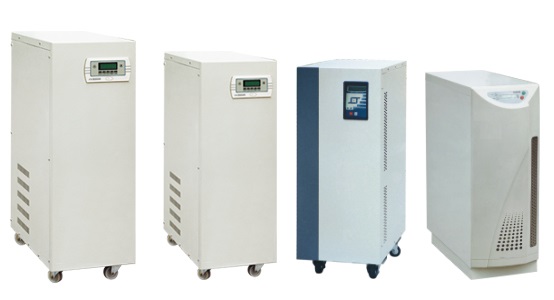 Product introduction (UPS-HBG high frequency online uninterruptible power supply)
A new generation of intelligent online UPS-HBG series developed by our company. The computing power is powerful, which can accurately and quickly detect and control the UPS operating points to ensure the high reliability of the product. A unique AC-DC conversion circuit is used to detect the output current and output voltage of the mains. The high-frequency pulse width modulator is used to make the current waveform of the input power and the phase of the voltage waveform consistent to achieve a high input power factor greater than 95%. . Under normal circumstances, the mains power receives the DCBUS voltage through the AC-DC circuit, and then converts the DC BUS to 220V AC output through the inverter. The power used by all loads is stabilized and stabilized to filter out the noise. Sine wave power. The excellent IGBT is used as the power conversion element. Due to the high-frequency switching characteristics of IBGT, the operating frequency of the UPS inverter can reach tens of thousands of hertz. The inverter's operating efficiency is improved, and the overall UPS efficiency is also improved, while the inverter frequency is increased It also reduces the noise of the inverter, so that the HBG series UPS placed directly in the computer room will not affect your work. Hongbao online high-frequency HBG series UPS is connected with Hongbao power monitoring software through RS232 communication interface, which connects the UPS and the network server to provide power status at any time; and realizes timing self-test, automatic save, automatic timing switch on and off and record power status And other intelligent functions to achieve zero distance human-computer communication. When the mains power is interrupted, the UPS notifies the server, starts to prepare for shutdown, automatically saves all data to disk, and executes the normal shutdown command, which can ensure the data security of the network system even in an unattended network environment.
Product performance (UPS-HBG high frequency online uninterruptible power supply)
Microcomputer control The powerful functional MOTOROLA microprocessor uses innovative software program control methods to replace complicated hardware circuits. Not only is it small in size and light in weight, it can also reduce the failure rate of UPS.
RS232 communication interface Through RS232 digital communication port, with Hongbao monitoring software (optional), you can directly use a computer to achieve zero distance between human and machine.
Power supply for a long time A powerful charger is applied, which can increase the battery and extend the backup time according to the needs of users. It is especially suitable for use in areas with insufficient power for a long time.
Centralized control panel The control panel is clear at a glance. It can clearly display the UPS operation status, load status, and battery power supply status on the panel, so as to grasp the changes in UPS power consumption quality and application environment at any time. The compact shape of the touch button makes operation easier, and the power can be turned on and off with a single touch.
Flexible panel structure Two kinds of panel structure are produced for users with different preferences.
Automatic detection When the UPS is turned on, the UPS will start self-checking of components (inverter, battery, etc.) and load, so that problems can be found in time to avoid any negligence.
Can be used with generators with a wide range of input voltage and frequency. HBG series UPS can be used with generators of major brands to extend the use time. At the same time, the bad power generated by the generator is effectively removed, which provides a pure, safe, Stable power supply.
Load short-circuit protection HBG series UPS has output short-circuit detection. When the load is short-circuited, the UPS will automatically protect to the shutdown state, and the panel indicator will remind the user, accompanied by an alarm sound.
Self-protection With a very detailed self-protection design, the UPS will automatically shut down regardless of UPS overload, short circuit, battery voltage too low or UPS temperature too high.
Silence device Thoughtful alarm silence function can eliminate annoying alarm sound.
Direct-current start-up The unique direct-current (DC) start-up fully utilizes the UPS emergency backup function.
Sine wave output Regardless of the state of the city or battery, it outputs a pure sine wave power supply with stable voltage and stable frequency and low distortion. Provide the best power guarantee for load equipment.
Zero transition time When the utility power is off or resumed, the UPS transition time between the utility mode and the battery mode is zero.
TVSS function and lightning protection TRANSIENT VOLTAGE SURGE SUPPRESS breaks through the voltage protection function. Use FAX, TELEPHONE, MODEM, network and other conversion protection functions.
Dual-machine hot backup When the user's important load equipment is absolutely forbidden to power off, the models with a capacity of 6KVA or more can fully support the dual-machine hot backup function. Users can use two UPSs for main backup use. , The other is responsible for power supply. Even if a UPS failure occurs, users can still use a pure, safe and stable power supply to minimize the risk of power failure.
Bypass protection When the bypass power supply is used, the emergency handling capacity of the UPS is greatly strengthened. If the load equipment of the user is dangerous when the voltage is high, the HBG series can provide protection for the bypass supply voltage too high to protect the safety of the load equipment.
Auto start function When the utility power is abnormal, it enters battery mode to supply power until the battery status is turned off. After the mains power returns to normal, the HBG series UPS will start and power on normally, and the power supply is normal.
Powerful charging capacity of long-acting machine In addition to long discharge time, the HBG series UPS long-acting machine has a strong battery recharge ability, which can provide 5-10A as the initial charging current.
Self-check function HBG series UPS can simulate power failure and enter battery mode to supply power. This function can be executed at any time through the self-test button on the panel, or in conjunction with the Hongbao monitoring software to perform on schedule or irregularly.
Strong anti-interference For electromagnetic interference and radio frequency interference, the HBG series UPS is designed according to the international standard EN50091-3IE6100-4 series standards, which effectively improves the safety and reliability of UPS use.
Inductive load HBG series UPS inductive load (PF = 0.8) POWER MANAGER2002 monitoring software (optional) In order to make the management of UPS more convenient and effective, users can be equipped with POWER MANAGER network version monitoring software to achieve intelligent management. Equipped with INTELLIGENT SLOT intelligent slot (optional) HBG series UPS is equipped with an INTELLIGENT SLOT intelligent slot, optional intelligent monitoring card, global management through the Internet or SNMP network management to achieve centralized monitoring and remote monitoring functions .
Super overload capacity BG 6K, 10K UPS When the load you use exceeds 100% <130%, the inverter will be reversed in 10 minutes
State to bypass state, with audible and visual alarms, allowing you ample time to adjust your load equipment.
Convenience.
Technical parameters (UPS-HBG high frequency online uninterruptible power supply)
Model rated capacity
Online
HBG-1K 1kVA / 0.7kW
HBG-2K 2kVA / 1.4kW
HBG-3K 3kVA / 2.1kW
HBG-6K 6kVA / 4.2kW
HBG-10K 10kVA / 7kW
HBG-S10K
HBG-S15K
HBG-S20K
Enter
voltage range
160V ~ 276V
170V ~ 276V
304VAC ~ 478VAC
Frequency Range
50Hz ± 6%
50Hz ± 5%
46Hz ~ 54Hz
Output
Voltage
220V ± 3%
220V
220 × (1 ± 1%) VAC
frequency
50 ± 0.5Hz
50Hz
Synchronized with the input mains power, and the synchronization range is adjustable (mains power mode) 50 × (1 ± 1%) Hz (battery mode)
Voltage range
± 2%
± 2%
± 2%
Frequency change range
± 0.5% (battery mode)
± 0.5%
± 0.5%
Overload capacity
110% -150% → 30s 150% → 300ms
105% -130% → 10min 130% -30s
105% -130% → 10min 130% -30s
battery
DC voltage
36VDC
96VDC
240VDC
240VDC
Maintenance-free lead-acid battery
12V × 7Ah × 3
12V × 7Ah × 8
12V × 7Ah × 20
12V × 7Ah × 20
12V × 18Ah × 20
Standby time (full load / half load)
7min / 17min
8min / 25min
5min / 20min
5min
3min
5min
Charging time
8 hours recharge to 90% full potential
Conversion time
Power outage or restoration
Zero interruption
Warning light
Indicator light
Load indicator, battery-powered indicator, UPS operating status indicator
Alarm sound
Battery discharge
Warning sound every 4 seconds when input voltage is off, warning sound every second when battery is exhaust
UPS abnormal
Continuous sound
Communication interface
R232
Intelligent monitoring functions such as power failure, low battery voltage, remote UPS switch
surroundings
temperature
0 ℃ -40 ℃
0 ℃ -40 ℃
humidity
10% -90%
20% -90%
Weight (net weight)
kg
14
35
36
84
163
180
Long-lasting machine weight
kg
7
13.5
14
37
75
93
physical dimension
D × W × H (cm)
39.5 × 15 × 22
45.5 × 19.5 × 34.5
57 × 26 × 71.7
64 × 34 × 98
57 × 26 × 71.7
Add S after the model, it is a long-acting model, and the battery has an external battery box.
Specifications are subject to change without notice.